Our chairs are made of walnut tree.

The seat part is designed as soft.

The waist part of our chairs is ergonomic.

Does not collapse and deformation.

The junction points have a smooth structure.
As Avantaj Metal Furniture;
With our personalized designs,
With our world-class quality products and services,
Combining our furniture mastery from the past to the future with today's technology,
Our qualified employees who have adopted the culture and founding values of Avantaj Furniture,
With our institution, which has adopted the principle of unconditional customer satisfaction,
By fulfilling the applicable conditions in our quality system
To provide the value demanded by customers by constantly improving them,
We adopt to be the "Brand of Choice".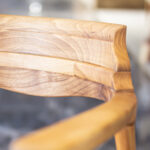 Have a question about our product?
Send us your message by filling out the form below, and we'll get back to you as soon as possible.